Federico Piccinaglia in action on RRD SUP11 in...
Hawaii?!?

No, the hot spot is VARAZZE in ITALY!!!
Check it out the size and perfect shape of the waves!

Really a great ride Fede!
...and it seems that RRD SUP 11 works pretty fine in big conditions too!!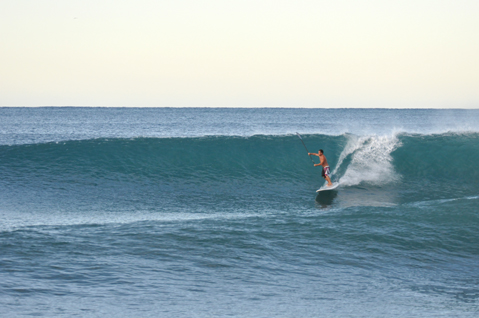 Ecco il testo della news di quelli di WND NEWS:

"Hawaii?!?... Nah… il nostrano Varazze, poco dopo l'alba, non più di venti giorni fa. Fede si prende le bombe "migliori", di un sabato che vedrà il mare calare vistosamente sin dalle prime ore del mattino. Dato che di onde così si spera che da qui ad ottobre ne arrivi ancora qualcuna e finalmente anche Max, Panda e Smink hanno cominciato a capire qualcosa sui sup…. beh ragazzi miei, insieme a Fede, abbiamo deciso che sul numero di ottobre di Wind News, vi offriremo dei test un po' più accurati dei vari sup intorno agli 11/12″ in circolazione: l'RRD Eleven (qui nella foto) è stato una piacevole sorpresa, il Naish Nalu 11′6″ è in arrivo, così come il Drops 12″ Style… e pare che non ci fermeremo qui! Ah, giusto per finire… quest'onda varazzina secondo voi quant'è alta?! La pagaia dell'Eleven, è lunga circa due metri: fatevi due conti, ma date un occhio alle foto sotto…. perchè l'onda si è alzata ulteriormente!"